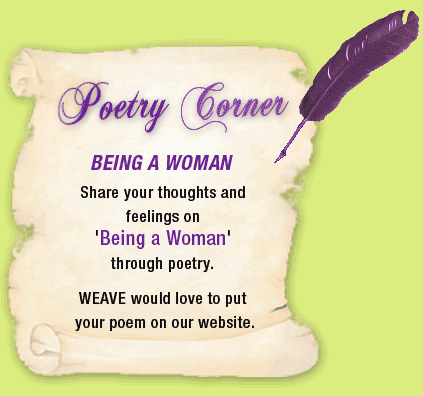 Email your poem to: Elspeth.McInnes@unisa.edu.au
Please note that not all poems will be published.

Poems will be screened to ensure they meet with W.E.A.V.E.'s
ethos prior to a decision being made to publish to our website.
Any concerns will be relayed to the author for consideration
and re-entry should they wish to.
We hope you enjoy this corner of our website and if you wish to make comments please send it through to the above email address, however, we ask that the use of tone or language be respectful.
Thank you.
---
YOU CALL ME "GIRL"
I thought I was human
Then you named me "girl"
Now my head's in a muddle
My mind's in a whirl.

Put your legs down!
Don't say that!
Don't go out at night!
You're not neat!
You're not sweet!
You look like a fright!

Well "girl" I may be
- That's your name, not mine -
But I'll do what I will
I'll not stand in line.
You can say what you like
and tell me I'm bad,

Where I'm sane and you're mad.
By: Maggie Graham
---
EULOGY FOR DIANA
I remember when we met.
We could see through your dress.
You were described as 'chubby' and 'shy'.

So you reinvented
Blushing bride, 'Shy Di',
To swan princess.
For them.
For us.

Babies,
Bulimia,
Bastards,
Babe, you had them all,
For them.
For us.

Abuse
Adultery
Agony
Babe, you lived them all,
For them.
For us.

Divorce
Desire
Designer-wear
Babe you did it all
For them.
For us.

Harassment
Have to's
Hatred
Babe you felt them all
For them.
For us.

We all have pieces of you forever
Diana
Love and Kisses
Rest in Peace
and
Say Cheese.
By: Maggie Graham
---
SPEECH AND IDENTITY
Never named
Never known
A voice from the other side
A projection
A reflection
In the image
Of the image
Turn the image over -

Living out a role to play
Write yourself in
Pretextual tension
Scriptural invention
Post-document declension
Produce the fractured "i".

Is I was and that I'll be
Name me now, or call me she.
Forever yours hysterically.
By: Maggie Graham
---
ANNIVERSARY
With this ring I thee wed
Slip the noose around my head
Never mind the tears I've shed
I vowed to keep thee till I'm dead.
See the groove the ring has worn
A narrow band the sun won't tan
Whiter, tighter, bite the bone.
Scream for freedom, freedom, freedom on my own.


I don't want to live with you any more
I don't like the way my head feels on the floor
I don't like the way you push me through the door
I don't like the way your nails become claws
I don't like the bruises that I've learned to hide
I don't like the way I can't show that I've cried
I don't like the danger that every day brings
I don't like the way you threw away your ring
I don't like the nightmares that turn into day
I don't like the children being careful what they say
I don't like the way you can flick like a switch
I don't like the names that you call me like bitch
I don't like the way I never feel calm
I don't like the way you're twisting my arm
I don't like the sound of your key in the door
No I don't want to live with you any more.


I don't want to live with you any more
Enough is enough and I've had more and more
I stayed for the children, I stayed to save face
But I don't like the way I never feel safe
I don't like the way you are when you're drunk
I don't like the way you push and you shove
I don't like the bite marks leaving a scar
I don't like the bruises under my bra
My stomach is churning, my heart's palpitating
I'm listening for footsteps, I'm never relaxing.
Today is tomorrow, I thought about yesterday.

Nothing has changed - unless it is me.
Where is the knight on the prancing white charger
When's the prince coming, rescuing me
My dream's turned to ashes, there's no happy ever after,
I realise there's only me.
So I refuse to live with this man and his temper
I refuse to play games and pretend I'm OK
I have to take action now I know what's the problem
I'm awake. I'm worth saving. Today is the day.
By: A.J.
---
ENTOMOLOGIST
He who once teased and squeezed
A cockle out of its shell
To watch it squirm
Now wheedles with barrister's skill
Twists my words and holds my silence up
To scrutiny.
My precious inner thoughts
He tears from embarrassed smiles
And holds my dreams of wings with pincers
Stabbing me through the heart.
(published Staple 1993.)

By: A.J.
---
CLIFF
This is how it feels
To leap off the cliff
No seagull miracles
No life guards
Treading air
Waiting for water.
(Published Envoi 1994)
By: A.J.
---
SLATE
I am a blank slate to write on.
I am the background for the patterns and scratches
Of your foreground.
I am the catalyst.
Your marks make my words,
My words your happenings.
Wash me and I am empty.
I am slate you break or keep.
By: A.J.
---
MOOD
He says my legs are too white,
I'm a corpse.
He says love is dead
And I'm like death.
He's oblivious to our sacred family unit.
I know he's over tired
And he'll come through it,
But for now he's leaving
To live in America.
By: A.J.
---
NEW VALENTINE'S DAY
All I am is a forgotten dream that nudges him,
Irritating as a small returning sand fly he flicks
While concentrating on other flesh, his second life,
Her whose strawberry hair I used to find on his shoulders.
Do I wander like a ghost in and out of his mind
As he trespasses unbidden in mine?
Spying, intruding, worrying me like dog with stick,
Crashing, breaking my dreams in which I'm always chased,
Always running.
His crushing tread's gone from the house,
Not from my head, -
A cold pilot light left burning.
By: A.J.
---
ALONE
You may think I'm just day dreaming
But inside I'm really screaming.
Longing to be held so that I can cry,
So many reasons I no longer list why.
All the times I've carried on pretending I was strong,
All the time crumbling, knowing everything was wrong.
No man trustworthy to call my own
No one stronger than me that I can lean on.
No way to mend the breaks and cracks or cover up scratches,
Only sellotape, blutak, chewing gum, make-do patches.
Falling to pieces, while propping up others,
Falling to pieces, holding them, crying out to be held.
By: A.J.
---
ALONE BY CHOICE
When no one hugs you any more
And the longing becomes unbearable
You buy new clothes.
At least they touch you and searching's exciting.
You turn your mind to other things,
And your head away from couples.
By: A.J.
---
LAST WORDS
He forced me to swear with hand on Bible,
Said my hand would catch on fire,
Said that I was totally unlovable,
Evil light glowed all around me.
Now he's gone to her who loves him,
She who's never seen his other self,
Whose hairs I used to find upon his collar,
And secretly compare to mine, her strawberry, my mouse.
And so I drag my own way to the sea with broken shell,
No man to hold my hand or carry boat round rapids,
Bungy jumping waterfalls with frayed elastic breaking,
Peeling married skins, like discarded cardies at the beach,
Or rather pen knife slitting spring twigs of grey ash bark,
Dreaming-eyelid thin, pale frothy pith,
Live sinews severed, carelessly revealing warm white bone,
Making others look away.
By: A.J.
---
DON'T THINK
Don't think.
Don't think I'm sad.
If I don't think, I can survive
With a certain contentment.
And my children justify me.
They were all meant to be.
But think, and my marriage is in brackets
About to be closed.
The rest of my life is waiting for me.
I search for echoes
In a noisy world,
One who thinks my thoughts
No words needed.
By: A.J.

Just beneath my palette
is the little place like a fontenelle
containing the scream
never to let loose
lest I drown.
By: A.J.
---
MOTH
Here I am a fully grown adult
fragile as a moth's wing
reeling in the nuances of the pull of light
buffeted in arctic breezes
frail and tipping
like an aircraft wheeling
no landing place in sight.

Tomorrow will I recall this tremulousness?
Will I be long gone
frozen windbeaten dust?
My breath that makes possible the song,
the spirit silver flute
leaves me constantly
unregarded wandering the ether
to become part of others.
The mirrors of the moth wing
catch reflections only,
pin pricks of remembrance.
I live private pain,
all I am, reflections of others.
By: A.J.

THE WARDROBE OF MATERNITY
The Wardrobe of Maternity
Fell on me as I was moving it out of the room.
Heavy sharp hard wood weight
BANG!

I was squashed.
Knocked flat.
I heard all the skeletons inside
Crash towards my corner.

Getting up was hard.
There was no-one to help.
Everyone reckoned I was just twisted.
I was too.
You don't get straight up afterwards.

When my baby told me what was happening
I knew because he had done it to me.
I told everyone I was supposed to
They told me it was me stirring up what happened to me.
They said they would take my baby away if I didn't stop
Telling them.

The trouble with wardrobes is
They fill up and get heavier.

I'm supposed to keep the door shut
With all the skeletons inside disguised as coat hangers
In the wardrobe of maternity.

I'm supposed to carry all this on my back
And stand up straight and be sensible.
And Maternal
I mustn't forget that.

The trouble is
I keep falling over.
The wardrobe of maternity
Thumps me into this twisted dimension.
The doors spill open.
The skeletons inside get out of line.
By: Maggie Graham
---
STATIONS OF HER KNOWING
First there is the knowing of infant.
Just being.
Living in sunshine or squall.
Weather is like that - unpredictable.

Second is the knowing of princess
- so pretty, cute, sweet.
Learning pink and blonde and thin,
And being nice and neat.
...........
Passing the princess test was never meant to be easy.

Third is the knowing of girl.
Should. Must. Mystery. Blood.
Why?
Other people wash their hair on Tuesday and don't die
So why should I?

Fourth is the knowing of nubile desire.
Dying. Sighing.
Giggling. Wriggling.
Puncture.
Coming down flat - on your back.
He said he'd ring.

Fifth is the station of wife.
The matron of a statesman never felt so grand
As tripping down the aisle, with a man held fast in hand.
Fast-held hands get sticky, then ooze and cake with goo,
left alone and stored at home, they rinse as good as new.

Sixth there is the mother
Stuck fast in bonds of love
No turning back along the track
They go. But you don't. Any more.
Until you find yourself again, somewhere -
You're probably under the washing,
Or off at the supermarket.
You said you'd be back in a moment.
Ready again to answer the call of incessant, insistent voices
of love, duty, guilt, honour ...

Seventh is revelations of re-knowing remembering
Self re-visited.
A stranger in a tidy living-room
Waiting to be announced.
By: Maggie Graham
---
SMEAR TEST
Deep inside
Metal pain
So rough this medical procedure
Recalling where once someone bit me
Taking his delight.
Cry despite myself
The well of tears I did not want to erupt
Knowing they could hear outside.
Humiliation, the only touching to come to me
Man made pincers no penis
Tearing at flesh to analyse
Grabbing claw where something wonderful should unfold.
No caressing flesh
No tenderness or comfort.
Legs undignified
Arms empty
The doctor says that was my last
I am now too old.
I cry the whole way home
Raw and afraid
That that assault is the last time I am entered,
Impossible I am wanted.
By: A.J.
---
THE CANDLE
Trying to keep the little vestige of my spirit alive
Is like trying to keep a candle alight in a draught,
No matches for rescue.
Those who knew me once might recognise
Scraps and snippets of me peeping through.
The hand made birthday card, that's me.
Letters instead of phone calls.
Beach combing while others throw stones
In the sea, that's me.
Walking slowly, stopping to look at insects,
Flowers, lichen, listening to bird song, that's me.
Scribbling after midnight,
A luxuriously quiet time,
No air planes, traffic lulled, no human voices,
No household machines, radios.
Only me and the dog fox now.
(published Envoi 1993)
By: A.J.
---
LE LOUVRE
Time is the creeping marble tortoise
Under the foot of Marcellus.
Who was the unknown woman
Whose marble head sits beside emperors
And beautiful boys?
Head disembodied
Look disturbingly like blood drained versions
Of their onlookers.
Bodies without heads
Leave all to the imagination.
Voici Winged Victory,
Poised for her leap,
But ever on the brink.
Who can blame her
When she can't see where she's going,
No faith she can fly blind.
(Published Envoi 1994.)
By: A.J.
---
A RIDE IN THE COUNTRY
He says to me,
'Hold my hand,
Put it there,
Not there, hold my gland.'
Speeding round the blind bend
The car jerks.
I pull my hand away,
'Concentrate on the road.'
He steps on the gas.
His hand moves to my breast
And danger flashes red.
The car careers.
I push his hand away.
'Concentrate on the road,
Please,
Please concentrate on the road.'
He curses me,
'You don't love me
You cold frigid fish.'
Fields flash by.
'If you loved me,' he shouts,
'You'd do what I want.'
Shivering, shaking I suddenly know
That it's true.
It's not love I feel.
And the children in the back,
Gape,
Gripping the seats
As he puts his foot down.
By: A.J.
---
ROTTWEILLER
Like a friendly Rottweiller
His family trusts him
Never to show his teeth
But the possibility
Is always there.
The wrong kind of smile,
A laugh in his face
And he could flip into killer mode.
The friendlier he is,
The deeper he's buried it.
His sisters turn their faces to the wall.
Don't ask the reason.
Loyalty to him comes first.
Other truths are treason.
By: A.J.
---
THE LISTENER
There you were the one in the crowd
The quiet in the rowdy
The listening man,
And there I was the one who was lonely
The one token oldie
Who didn't really count.
Your words were few
Placed where they were needed
And my words were many,
most of them heavy
But when I was stumbling
You lifted me over
tho' I weighed you down
In the balance of time.
Souls in the wrong bodies
We'd never be lovers.
Born at the wrong time
Our paths only crossed.
Your voice was a comforter,
Spangles and lambs down.
Your eyes were like candles
That illumined the lost.
By: A.J.
---
LET
Let the days go by
Ride the tide
Like a gull on the sea
Mark time for the moment
No rush to go forward
Rest awhile
You're weary
Rest awhile.
By: A.J.
---
IT'S TIME TO SAY GOODBYE
I remember when we first met
you walked in and seemed so strong,
I was vulnerable and lonely
and thought we could have some fun,
we went riding on your bike
and in your purple car,
the sun was shining in my head
you were generous by far
I loved you when we married
but even then I felt pushed away,
I tried and tried to get close to you
but I couldn't break your shell,
the one that's there protecting you,
from your childhood hell
we had our beautiful children
and they all adored you so,
you laughed and joked with them
in such an aussie way,
I loved that part of your personality
and I still think of it today
It seemed that nothing scared you
the challenges were there to be had,
but what I didn't realise
is that you were very sad,
I felt like such a failure
cos I couldn't make it right,
I wanted to be with you
but couldn't continue the fight
I don't think you're a bad person
although what you did was wrong,
the pain that you've inflicted
lingers very long,
Mostly I'm not angry now able to feel sad,
sad for all the things we lost
and the things we never had
Even tho I loved you just the way you were,
the pain when you hurt my children
was more than I could bear
and I still feel it every day
perhaps it will always be there
So when I say goodbye
I'm hoping to let go
Of all the trauma and suffering
You inflicted with every blow
By: Sandra Jackson