Remembrance Quilt Project - "Not one more"


Remembering the women and children killed in domestic violence.
This is a national project engaging women and supporters in the community to work together in the creation of a Remembrance Quilt to honor and remember the women and children who have been killed in domestic violence in their community, in their state.

The National Remembrance Quilt is now hanging
in the Federal Parliament.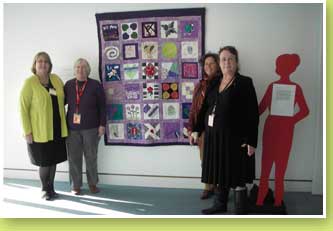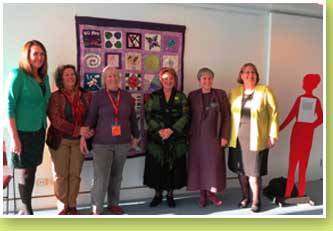 National Remembrance Quilt Tour
Executive Committee, Women's Council for Domestic
and Family Violence Services
Left to right: Major Margaret MacDonald, Anne Moore, Heidi Guldbaek, Rebecca Claire, Vivienne Pillay, Annette Chivers and Angela Hartwig, CEO....more
Domestic violence homicide: What we know & what we want...
Based on current knowledge approximately 76 women are killed each year by a current or former partner (National Homicide Monitoring Program 1989-90, 2002-03)
We also know based on overseas knowledge that many more women deaths are attributed to domestic violence than are currently acknowledged.
The national campaign for each state in Australia to establish an independent Domestic Violence Homicide/Death Review believes the only acceptable model is an evidence based best practice model.


THIS MEANS A MODEL MUST INCLUDE:
Transparency - Team membership that is multi-disciplinary, multi agency, diverse AND inclusive.

Statutory protections - are put in place to provide confidentiality, compels that all information/evidence/files are provided for the Review, immunity from prosecution.

Creating time line of events that conveys a sense of movement and identifies the barriers and challenges victim/offender encountered.

Accountability - Recommendations that are made are coupled with a reporting mechanism of implementation and must include follow up. This would include an Annual Report tabled in Parliament.

Accurate data collection and analysis.

Generation of research to support better understanding of domestic violence homicide, investigate identified trends & emerging issues.

Builds on learnings & contributes to a growing body of evidence.

Inter-disciplinary conversations about best practice approaches.

Development of best practice.

Informs and stimulates education, community awareness initiatives - view full pdf
The Domestic Violence Death Review Action Group for EDITH - Ending Deaths In The Home - is on facebook

Facebook users can click on the icon above and then click the "like" button on Domestic Violence Death Review Action Group's page. They will become a supporter and will automatically receive notifications of events and other news. They will also be able to add their own news and other comments.

For non-facebook users, email: redroserally@gmail.com. To go onto the red rose alert message list.

This year to date, there has been 13 domestic violence deaths in Queensland that has come to the public attention – this includes 8 women (all murdered by men) 4 men (two murdered by men) 1 child and 1 unborn (the perpetrator in this case was charged with both the death of the mother and unborn child).

We need to continue our work to highlight the devastating toll such deaths are taking on our community.
DOMESTIC VIOLENCE DEATH REVIEWS

16 August 2011
Call to investigate home killings
Miles Kemp, The Advertiser, August 16, 2011 12.00am
CAMPAIGNERS against domestic violence want an investigation into 19 killings in SA over the past
three years.
UniSA senior lecturer Elsbeth McInnes, who keeps a tally
of domestic violence deaths based on reports published
in The Advertiser, said other states had begun to research connections between domestic violence killings as a
prevention tool...more
Best Practice Principles for an Effective Review Model. The following tool we believe is helpful in determining if a proposed model for Domestic Violence Death Review Team reflects those best practice principles indicated in research and exist in many established DVDR Teams established in other jurisdictions. (fact sheet)

Dying to be Heard. This discussion paper has been produced for the Domestic Violence Death Review Action Group members, who have worked tirelessly to see the establishment of a Domestic Violence Death Review Board in
Queensland...more

Domestic Violence Homicide Reviews: Preventable Deaths of Women in Australia. "When viewed as the escalation of a predictable pattern of behaviour, domestic homicides can be seen as largely preventable deaths" ( David, 2007)...more
---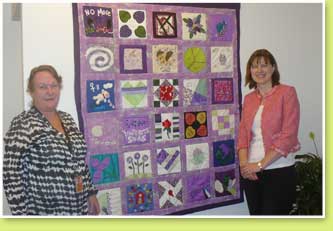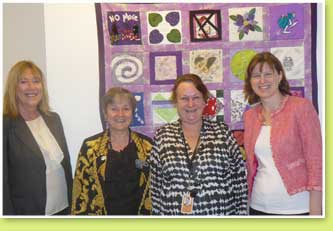 South Australian QUILT





Organized by National Domestic Violence Death Review Advocacy Group and the SA Domestic Violence Death Review Advocacy Group...more
New South Wales QUILT


This is a national project engaging women and supporters in the community to work together in the creation of a Remembrance Quilt to honor and remember the women and children who have been killed in domestic violence in their community, in their state...more
Queensland Quilt


The QLd quilt's first showing was on the cliffs of Kangaroo Point across the river from the city. It was to mark the fifth Queensland and first national (candle lighting vigil to remember those who have died because of domestic violence. Our Minister (Karen Struthers) did attend and spoke at the vigil.

The Quilt hung on the fence of parliament at the Red Rose Rally held on the last day of Domestic Violence Prevention Month here in Qld.

The Queensland Quilt was coordinated through the Domestic Violence Death Review Group (DVDRAG) which also called the Red Rose Rally. It was made for us by Country Women's Association.
A National WEAVE (Women Everywhere Advocating Violence Elimination) Inc Project
We would like to thank the women who made the blocks and acknowledge the support of the following services:

- Spiderwomyn Feminist Circle , Fremantle WA
- Robinson House, Blackburn, Victoria
- Townsville Multicultural Support Group, Queensland
- Wooree Miya Aboriginal Women's Refuge, Inglewood WA
- Janice Isles, Jenny Letts, Burketown Queensland
- Heather Joy, Adelaide SA
- Women's Council for Domestic and Family Violence Services (WA)...more